Fineliners are a popular type of pen that has been used by artists for many years. Their intense black ink creates anything from the simplest doodles to the most detailed drawings. Not only are fineliners great on their own, but they are also a great addition to your other art supplies (alcohol markers, watercolor, colored pencils and more ).
This November, Ohuhu  released their new fineliners the Ohuhu Fine Line Drawing Pens. I have really enjoyed using these and I think you will too; intense black ink, waterproof , dries quickly with no smears, etc. They can be used in all sorts of ways, with different art styles, in combination with other supplies and techniques for an infinite variety of beautiful artwork.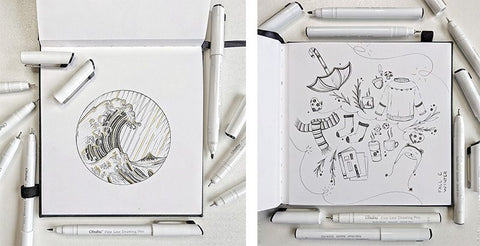 1.PEN SIZES

These pens come in 8 different sizes. The sizes vary from a thickness of 0.20 mm to 1 mm, as well as a brush pen. The higher the number, the thicker the nib. Each marker can be used for a specific drawing type, depending on what level of detail you want or the character of the lines you're going for. The brush pen is really flexible, allowing you to achieve different line widths. Depending on your needs for a drawing, you can switch between all of them, or just stick to one or two!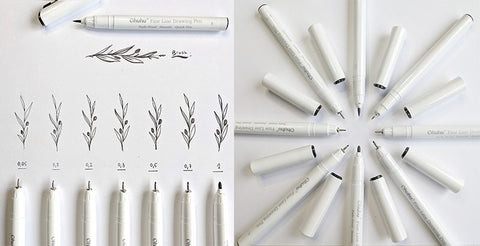 2.THE PAPER

Now that we've covered the different pen sizes, let's look at the way these pens react on different types of paper. At first sight, the Ohuhu fineliners seem to work on all types of paper. While the pens do work fine on printer paper, you'll notice how much nicer it is to draw on heavier, smoother paper. Drawing paper will also prevent the ink from bleeding through or ripping the paper. I also tried the pens on a cross section of wood to see how they would do on a different surface  and the result was actually pretty cool! I mostly used the 1.0 mm, which gave me great results and didn't damage the nib.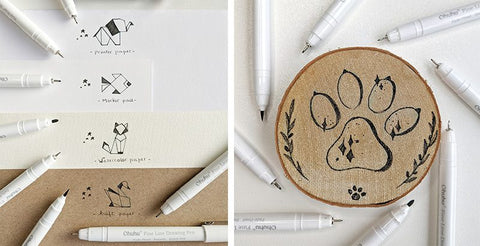 3.FINELINERS X WATERCOLOR
Since the Ohuhu Fine Line Drawing Pens  work on watercolor paper and are waterproof, we can use them with watercolor paint or makers with ease. And you get some pretty amazing results, too! Sometimes inking a drawing really makes the difference between an okay and a great drawing. You can choose to make some areas "pop", make them more detailed or highlighted, depending which size you're using.
Once you're done inking, you can start to apply the watercolor, which won't make the marker lines bleed. I decided to use the Ohuhu upgraded watercolor markers which worked pretty well! You can use the fineliners before or after adding color. Each way gives you a different result but is definitely worth experimenting with.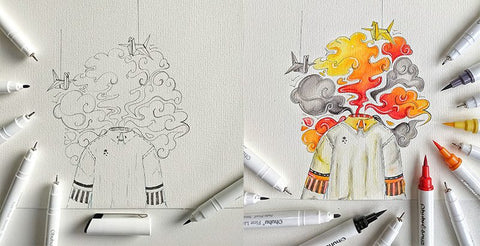 4.FINELINERS X ALCOHOL MARKERS
Another great thing about these pens is how they can work with alcohol markers without bleeding. You can still use your favorite techniques but this time also add your fineliner to the mix. It also opens the door to tons of other possibilities and inspiration for your next drawing. Like with the watercolor markers, you can use your fineliners to ink your sketches or to add details after applying the alcohol markers. Pretty cool!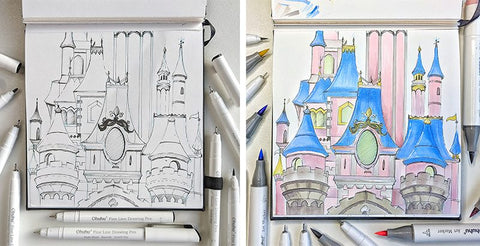 5.POINTILLISM
Pointillism is a painting technique developed in 1886 by the artists Goerges Seurat and Paul Signac. The technique consists of applying small strokes or dots of colour to a surface so that from a distance, they visually blend together. Nowadays , the technique is still used, but with a variety of different art supplies. You can get started by sketching your drawing, then start applying the dots over the pencil sketch. The areas you want to be darker/more shaded will contain more dots than the ones you want to be light. Then erase the pencil afterwards.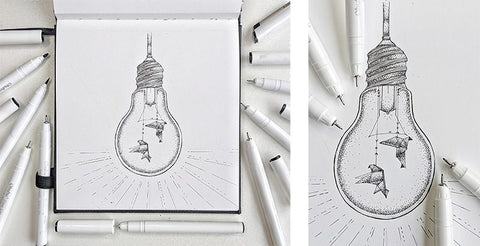 6.NOTE-TAKING
Not only are the Ohuhu Fine Line Drawing Pens good for art but also for everyday use, like note taking , bullet journaling, etc. They can be combined with lots of other stationery supplies like highlighters, pencils and even the Ohuhu double sided brush liners.
One cool way to do it is write headlines and more important information with the larger markers, then add the details or bullet points with the smaller-nibbed markers. Try it out!  The fineliners feel really smooth on paper so it makes writing a lot of fun. You can even add doodles or illustrations to your notes to make everything pop and add some extra visual fun too!
7.CALLIGRAPHY AND LETTERING
Ohuhu fineliners come in different sizes, and while we know that each size works great for different things, you might not know that they can be used for calligraphy too! These pens are nice to use if you want to give your quotes and words some added style and beauty. If you're comfortable enough with lettering, you can use the brush pen to create all sorts of great typography, and if you still need a bit of practice, you can take baby steps and it's still fun to do. The different sizes also allow you to create different typographies and add texture and detail.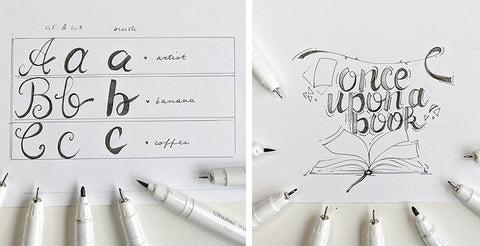 8.MANDALAS AND PRECISION
Fineliners are the best when it comes to precise lines and tiny details. You can use them for professional applications or your own art projects. One fun thing to draw with fineliner pens is Mandalas. It's the perfect, meditative combination of symmetric and curved lines and doodles. You can fill your mandalas with anything you want, use zentangle patterns, or throw in some pointillism or other favorite techniques of yours. If you think about it as a relaxation exercise, getting lost in the patterns and textures can be very therapeutic and rewarding.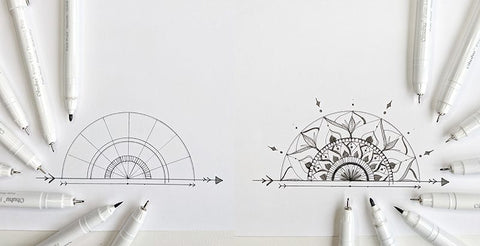 In the end , the Ohuhu Fine line Drawing Pens might seem like a pretty simple art tool, but if you take a look at some of the amazing things they are capable of, they can be a fun, dynamic addition to your art projects. The possibilities have no limits other than your imagination! 🙂
That's it for today—as always we hope that you enjoyed following along with us and perhaps learned something new. If you have any questions, don't hesitate to drop us a line in the comments section below.
Have a wonderful day!
Note:This article is from Multicooleur.